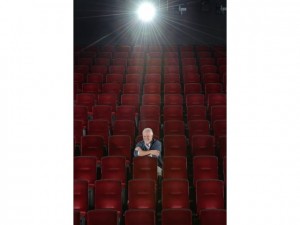 Film producer Judd Funk has worked on more than 300 films that have earned nearly $12.3 billion in box office. Since moving to Orange County, he's come to appreciate coastal living while still going full speed with his Hollywood projects.
http://www.coastmagazine.com/articles/hollywood-3665-culture-impending.html
ORANGE COUNTY'S HIDDEN HOLLYWOOD
OC may not have Paramount, but we have paradise, and that's appealing to more and more showbiz types.
BY JAN BRESLAUER | PHOTOGRAPHY BY BILL ALKOFER AND MICHAEL GOULDING
Come to paradise, he said. That was my soon-to-be husband, suggesting we make our home in the reputedly more provincial of the neighboring counties that had defined our relationship. Me, a committed Angeleno, defect to the land of Mickey and Goofy? Where boat parades pass as culture? Surely this Hollywood-born USC boy I was about to marry was in jest.
Alas, it was true. As with any mixed LA-OC marriage, one of us was going to have to emigrate. It would have been a herculean task to relocate his busy law firm. However, I was more suitably peripatetic. Working in the entertainment industry, I could easily move my base of operations. Still, I viewed my impending relocation with all the enthusiasm of someone entering witness protection.
He plied me with quality-of-life realities: fine food, stylish boutiques, coastal vistas and navigable freeways. He charmed me with bucolic burgs, from Old Towne Orange to Laguna Beach. We took the requisite dazzling scenic drives. Then we house-hunted for a place of our own. In truth, it wasn't all that tough a sell. He had me at "There will be more room for the horse."
Eight years into this grand cultural experiment, my husband has stopped referring to our residence as the safe house. I really don't miss the potholes, broken water mains and urban grunge. There's room to breathe here, and I don't pine for the daily parking crucibles. Los Angeles is still readily accessible. I am even more involved with the entertainment industry than I was when I actually lived in LA. What's more, I'm not alone. It turns out that a lot of industry people call OC home. They go about their well-adjusted lives in gracious neighborhoods without so much as a snivel of regret for having forsaken the 405 crawl. And most are not here because they have to be here.
Film producer Judd Funk is one of those people. For 15 years the head of business affairs for New Line Cinema, Funk has worked on more than 300 films that have earned almost $12.3 billion in box office. His migration story echoes my own, minus the horse. "I met a terrific woman, whom I eventually married, who lived in Newport Beach – behind the Orange Curtain, as she would say – and refused to leave," he says. "So I had to move there. It wasn't my first choice or even my 10th, but it has now become my first choice."
Funk and I both feel that moving to Orange County makes you aware of conditions you'd come to tolerate in LA. "I like that you can experience all the best that you get in LA, without the congestion," says Funk, who's a member of the executives branch of the Academy of Motion Picture Arts and Sciences and a partner at the law firm One LLP. He has worked on such films as "The Empire Strikes Back," "Return of the Jedi," "Field of Dreams," "Jurassic Park," "Schindler's List," "Austin Powers" (I, II and III), "The Lord of the Rings" (I, II and III), "Elf," "The Notebook," "Wedding Crashers" and "Sex and the City." "Until I lived here for a few years, I couldn't fully appreciate how living in the congestion of LA aggravates everything, making it more difficult to go from point A to point B, all the time. Once I'm there, I'm reminded what a joy it is not to have to live there anymore."
Living here has also enabled Funk to add a second career, teaching in both the film and the law schools at Chapman University. "It allows me to draw on the best and brightest in LA to come down, visit, engage our students and offer them jobs," he says. "I was surprised to discover how easy it is to get these top entertainment professionals to come down here: producers, studio executives, entertainment attorneys and top executives in marketing, distribution, finance and other areas."
Cinematographer John Leonetti – best known for such films as "The Conjuring," "The Mask," "Insidious" and "Mortal Kombat" – recently wrapped the film "Wolves at the Door." He used to take annual vacations in Monarch Beach before he and his wife decided to move to San Clemente five years ago. He realized there wasn't much point in anchoring himself to LA when, more often than not, his movies don't shoot there anyway. "The movie business has taken me all over the world, but I had only worked in LA on two movies in the last eight years," he says. "So we decided to live in paradise instead of just visiting there. We truly enjoy living in a small town environment where surf racks and paddleboards on cars are prominent."
Leonetti was born in LA but had become unhappy with it. "LA has become so crowded," he says. "Orange County is just more peaceful than Los Angeles." Moreover, he's found ways to accommodate the drive. On the relatively rare occasions when Leonetti is in post-production in LA, he and his brother, Matt, also a cinematographer, share a pied-à-terre in Sherman Oaks. "In post-production, I can usually go into LA after traffic on Monday mornings and usually come back to San Clemente on Thursday evenings and enjoy long weekends with my wife back in paradise," he says. "The inconvenience of the travel time is worth it."
Although both Funk and Leonetti have been working in the entertainment industry for decades, there are also people who moved here when their careers were relatively young. One of those is singer-songwriter, actress and creative producer Stefani Rose, co-founder of StartBeat Entertainment, parent company of ReAmp Studios with locations in Tustin and Anaheim. Rose came to Orange County in 2006. "I was pregnant at the time and had decided to take a few years off from the industry to be a mom," she says. "The entertainment industry can be super unstable, so we were focusing on my ex-husband establishing himself in the business world. It was a tough choice at the time but we felt it was the right move."
Rose has chosen to stay in OC for reasons both personal and professional. "l do have to travel to LA quite a bit because many of the people who I work with live in Los Angeles," says the Yale School of Drama graduate. "Orange County truly is a great place to raise a family. My business is thriving, and living in the OC allows me access to the industry and a place to call home."
At the other end of the spectrum, there's longtime OC resident Chris Carmichael, who has made his home here for more than 50 years. He's the chairman, CEO and co-founder of Ubiquity Studios, which is shooting its first feature film, "Vessels." Ubiquity's 30,000-foot digital media production facility is in Irvine, and Carmichael lives in Laguna Niguel. Born in Hollywood, Carmichael and his parents moved to the San Clemente area when his father, Al, retired from playing for the Denver Broncos. "As a former professional surfer, I enjoy being a quick five-minute drive from some of the most beautiful beaches in the entire world," he says.
Carmichael suggests that OC's environs are beneficial not only for the lifestyle they afford, but also for business. "We have the added ability to foster growth with room for future developments, whereas most LA studios are maxed out in terms of space," he says. "This extra space allows us to continue developing in the virtual reality sector, not to mention other state-of-the-art facilities."
What we all have in common is the realization that an increasingly global entertainment industry is less dependent on any given location. In my case, as a transactional entertainment attorney, the majority of my clients are in LA, New York, and London. The parties with whom I'm negotiating are as likely to be in Manhattan or Washington as Century City or Burbank. We wouldn't negotiate in person, in real time, even if we were next door. Practicing entertainment law is largely epistolary, and one spends a good deal of time drafting documents. It really doesn't matter where you're sitting. Besides which, clients appreciate that I don't have to pass along the cost of a Beverly Hills office. I go to LA when the need arises, but not every day.
Hollywood was always more of a concept than a place, and in this century it is decidedly no longer local. Movies and other creative projects are put together with talent from all over the world.
"Given the wired economy that we live in, it's much easier to conduct business anywhere in the world, including Newport Beach, and in fact, even on the beach," says Funk. "I talked with my partner in London this morning, who is there interviewing talent for our film, which we plan to put into production this spring. My other partner is in New York. This wired generation makes it possible to live in more pleasant places and still have access to everything."
Industry people have long had second homes in the OC. Now an increasing number work directly from here, proving you don't have to be one of the Real Housewives to be in showbiz while living in OC. That's because the way we do business has changed. Sure, we love LA – some of us the way Randy Newman meant it. Orange County is the new black.